Career UpRising
Mondays on InFlow Radio, iTunes, Spotify and Amazon Music
Discover what it would be like to actually enjoy going to work every day… Imagine if you felt completely fulfilled with your job…
Whether you are a looking for a new career or stuck in a toxic job, Career UpRising is about not settling for less and harnessing your personal power to achieve more. The show covers topics such as overcoming fear and self-doubt, interviewing confidently and authentically, negotiating a higher salary, and much more.
Lorraine shares insights about the hiring process, case studies from successful coaching clients and stories from her own career journey to help you find the career of your dreams. She takes listener questions and interview other coaches and career experts. Best of all, you'll learn how to harness the power of manifestation to bring better results in your job search and career development.
I reached a point where I had lost my confidence and thought there was no future for me. One day I searched for a career coaching podcast and I found your show, Career UpRising. I have listened to all 100+ episodes and your show has completed shifted my mindset! I have a more positive perspective and I am highly motivated to start a new career path. I want to thank you for the gift of hope I have received by listening to your podcast.
Lizeth., Career UpRising Listener
Lorraine gives career coaching, job seeking, job survival and "bigger picture" life advice. She is supportive and knowledgeable in helping you determine your next career move and realize your potential.
Andrea, Career UpRising Listener
Thank you for your latest podcast regarding your client from Australia. Her story put so much in perspective, and I thank her for being willing to share her story so others can learn from it. I carry her story with me days after listening to it. I have lost my drive and stayed in a role because I have mentally and emotionally given up despite what others may see externally. So thanks again for such a powerful podcast, and I look forward to listening to your other ones as well.
Latrecia, Career UpRising Listener
Career UpRising is an excellent podcast if you are considering changing careers, positions within the same field or just seeking the right fit. Every single nugget of advice is a nudge in the right direction. Lorraine hits the mark! I recommend Career UpRising for anyone looking for inspiration or guidance in their career.
Monica M., Career UpRising Listener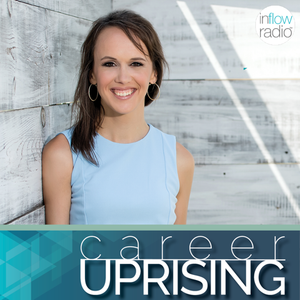 Listen to Lorraine's show, Career UpRising, released Mondays on inflowradio.com and iTunes.
Love the show? Leave a review on iTunes.
iTunes
Listen Now!
Episode #149 The Return To Office Battle
By Career UpRising Dec. 04, 2023
There is a war raging between employees and their companies over remote work. Who will win? What can you do if want to work from home? This show will answer these questions and Lorraine will share specific tips and dialogue for starting this conversation with your boss. Learn more at www.careeruprising.com.
Episode # 148 From Entrepreneur to Employee: How To Make The Transition
By Career UpRising Nov. 20, 2023
What happens when you work for yourself but want to enter the corporate world? Can you go from being a boss to an employee? Many clients want to make this transition but worry about how to tell their story and get hired after owning a business. This is more common than you think! As someone who has made this transition herself, Lorraine has practical strategies will empower your career transition. Learn more at www.careeruprising.com.
Episode # 147 Starting Over After a Long Job Tenure
By Career UpRising Nov. 13, 2023
One thing that Career UpRising clients have in common is long job tenures. How do you start over when you've only worked at one place for so many years? It can often feel like the end of a relationship when you transition out of a company you were loyal to. Listen to this show for guidance on how to make this transition mentally, emotionally and logistically. Learn more at www.careeruprising.com.
Episode #146 When Life Gets Messy
By Career UpRising Oct. 22, 2023
Oftentimes before things get really good, they fall apart. A crisis is always a wake up call and a sign that your life is heading in a new direction. This is both exciting and scary! Learn how Lorraine navigated several challenges this year and you can do the same. Order my new book today: Amazon: https://www.amazon.com/What-You-Didnt-Learn-School/dp/163755818X?ref_=ast_author_dp
Episode #145 Show Update and Book Release
By Career UpRising Oct. 08, 2023
The show is back and with big news! Listen to what I have been up to and all about my new book. Learn how you can receive a free bundle of special bonuses from Career UpRising that will transform your career! Order the book today from all major retailers.
Episode #144 Bonus Episode: Show Hiatus + What Is Next For Career UpRising
By Career UpRising Apr. 24, 2023
The Career UpRising show is five years old this month. After 144 episodes, Lorraine is taking a hiatus for at least a few months. Hear more about her upcoming announcement and what might be next for her personally and professionally.
Episode #143 Your Job Is Not Your Identity with Sunny Khurana
By Career UpRising Apr. 23, 2023
Sunny is a two-time client at Career UpRising and has an incredible story to share. For anyone stuck in a long job search that is not working, or experiencing burnout from their job, then this show will provide the inspiration and action items you need to make a change.
Episode #142 Secrets To The Salary Negotiation with Alex Immel
By Career UpRising Apr. 16, 2023
There is a right and WRONG way to negotiate more money in a job offer. Making a mistake can cost you -literally! Listen to this interview with Alex Immel, a professional negotiation consultant, and learn exactly what to say to earn more in your next job offer. Book a free call with Alex here: https://calendly.com/aleximmel/salary-negotiation-consultation-career-uprising
Episode #141 Breaking Into The C-Suite Part 2: The Executive Job Search
By Career UpRising Mar. 19, 2023
How do you find an executive-level job? There are nuances to an executive search compared to other jobs. Learn the best practices for anyone at the executive level, or reaching for it!
Episode #140 Breaking Into The C-Suite: Part 1 with Mary Patry
By Career UpRising Mar. 06, 2023
What does it take to break the glass ceiling? Moving into the C-Suite is a goal of many clients. Learn what skills you need to advance your career into a leadership capacity. Mary Patry is an Executive Coach and former CIO who will share valuable insights.